HORTICULTURAL THERAPY  AND HEALING GARDEN
IN PRACTICE OF A SUITABLE PROGRAM PROJECT CARE
TRAINING EA09 - ANFE CATALOGUE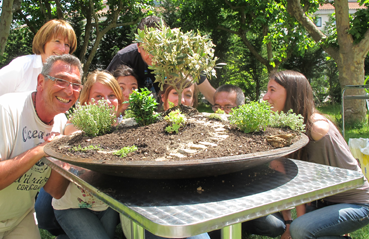 Objectives :
Part 1:
• Understanding what horticultural therapy is
• Define the theoretical and scientific bases, its strengths, its benefits for patients
• Define the different techniques of horticultural therapy
• Enter the non-drug therapy in the overall care process
• Conduct a horticultural therapy's workshop and ensure sustainability in the context of
activities in the garden
Part 2:
• Define the characteristics of healing garden
• Use the basics of landscape architecture to integrate amenities characteristics taking into account the structure of the institution, its immediate environment and care goals.
• Design IN and OFF spaces of the institution as part of a coherent whole (spatial temporal orientation)
• Identify facilities that meet the needs of patients, care staff, the objectives of the institution.
• Establish a spatial diagnosis
• Define the project from the state site plan
Part 3:
• Define the horticultural therapy activities within the institution and in the garden
• Integrate the garden as a therapeutic tool, with the nursing staff
• Identify and develop an horticultural therapy program in connection with the other departments concerned
• Embed this program with other care actions
• Identify the main elements for the establishment of observation sheets for evaluation.
• Follow-up assessments in collaboration with physicians and the referring care staff of the program
Public:
Medical staff, caregivers, youth workers and workers working in collaboration with a medical team
Martine BRULE, landscape architect, horticultural therapy practitioner, member of the American Association of Horticultural therapy - AHTA, leader in research, education and resource information about horticultural therapy and therapeutic garden
DEVELOPMENT OF A DESIGN PROJECT FOR A THERAPEUTIC GARDEN
EA10 - ANFE CATALOGUE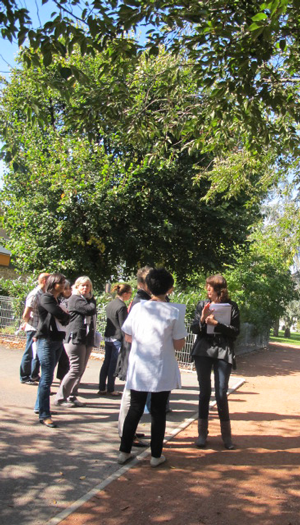 Objectives :
part 1
• Define the characteristics of Healing gardens
• Use the basics of landscape architecture to integrate characteristics facilities taking into account the structure of the institution, its immediate environment and care goals.
• Design exterior spaces and interior spaces of the institution as part of a coherent whole (time orientation)
• Identify facilities suitable to the needs of patients
Part 2:
• Establish a spatial field diagnosis
• Prepare the design project from the blueprint of the institution
• Evaluate the financial and technical resources
• Define the garden activities and how to ensure their survival in a care program.
• Integrate the garden as a therapeutic tool, with the nursing staff concerned
Educational resources :
• Theoretical and practical
• Studies in real situation : diagnostic exercises,  design simulation from the blueprint 
  plan
• Roundtables: analysis, discussion, exchange of experiment
Trainer :
Martine BRULE, landscape architect, horticultural therapy practitioner, member of the American Association of Horticultural therapy - AHTA, the leader in research, education and resource information about horticultural therapy and therapeutic garden,
Dates and terms:
3-day training in two parts 2 + 1 day (Development of the project and experience feedback)
HORTICULTURAL THERAPY
AWARENESS AND BASIC TECHNIQUES
EA11 - ANFE CATALOGUE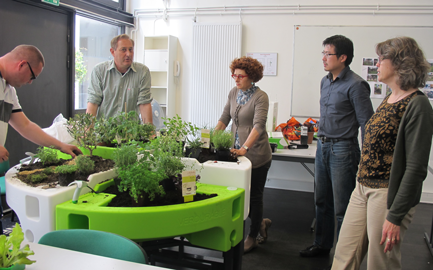 objectives:
• Understanding horticultural therapy, its benefits for patients
• Define the techniques of horticultural therapy adapted to different patients disabilities and handicaps
• Enter this non-drug therapy into the overall care process
• Communicate about this therapy with physicians, medical staff, caregivers, the entertainment department, volunteers and families
• Master the basics of horticultural therapy to build a professional project

Practice :
Practical exercises from different media (flower arrangements, "tray-garden", miniaturized landscape compositions for a practice inside and outside the institution
Educational resources :
- Theoretical and practical
- Work documents given to each participant
- Presentation of a training package including vegetable and mineral
- Practical: experimental exercises on the tray-garden and VERDURABLE ergonomic tools
PROCEDURES FOR MONITORING THE ACQUISITION OF KNOWLEDGE AND SKILLS:
Project analysis of each participant, realization of practical exercises from different media with the recommendations of the trainer and areas for improvement.
Public:
Caregivers, youth workers and workers working in collaboration with a medical team (2 days).
Trainer
Martine BRULE, landscape architect, horticultural therapy practitioner, member of the American Association of Horticultural therapy - AHTA, the leader in research, education and resource information about horticultural therapy and therapeutic garden
Dates and terms:
Formation of 2 consecutive days (14 hours)
Location: Paris 13
Dates available on www.anfe.fr
<
Viv'harmonie

Actualités de Viv'Harmonie
Martine BRULÉ.
Cavillon - Domaine de Beauvallon
83310 Grimaud

Tél. : 04 94 56 39 92
Port. : 06 63 82 19 49
brule.martine@vivharmonie.com