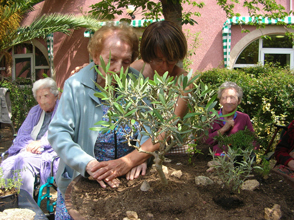 Thematic workshops :
Awareness of the living environment: sensory recognition from materials extracted from nature
The cut garden
Miniature landscape compositions, performed on a large cut.
Another way of gardening and creativity. A creation at your finger tips for the well-being within and the satisfaction of becoming an actor for a personal work.
Stone and reflexology:
Small energizers with stones to work on the joints of the fingers and hands for a larger mobility.
Floral arrangements inspired by Ikebana :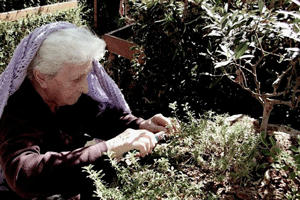 An opportunity for observation and creativity in the art of harmonizing flowers and
branches, harvested in the seasons.
A work to be performed on a minimal medium in the balance and simplicity of the
gesture.
The technique I developed in the workshops Nature Culture, from HT is adapted to the patients and their pathology

Awareness to living environment :
Memory exercises around plants, solicitation of the five senses and sensory recognition with elements extract of nature and especially aromatic and medicinal plants.

Ikebana :
A technique that is based on the principles of the Japanese Art of flower arrangement, in connection with the reinstatement of the body schema.
Gardening and maintenance of plants :
An activity linked to the actions of care,  leading doctors and medical staff (occupational therapist, psychomotor therapist, psychologist, caregiver, using the garden as support and care tool in their practice and guidance with patients.
 " Garden on a plate" – a miniaturized landscape
Realization of miniaturized landscape through which patients give free rein to  imagination. Another way to create with materials from nature. A miniaturized support for a well being within and the satisfaction of becoming a creative actor.
Through these activities the patient gets in touch with his body and his marks in the space. He also has the feeling of the accomplished task, meaning to maintain plant life he meets and he manipulates. He feels the benefits and feels a sense of control over a small part of his life.
Plants are a symbol of life. The patient's health is the main objective in which the plant is involved and is a tool to achieve this goal.
Viv'harmonie

Actualités de Viv'Harmonie
Martine BRULÉ.
Cavillon - Domaine de Beauvallon
83310 Grimaud

Tél. : 04 94 56 39 92
Port. : 06 63 82 19 49
brule.martine@vivharmonie.com