« LES ATELIERS NATURE CULTURE » Workgroups have been held once a week in the Home's teenagers's garden « La Maison des Adolescents » of the Lenval Hospital in Nice, since its opening in 2007.

THEMATIC WORKSHOPS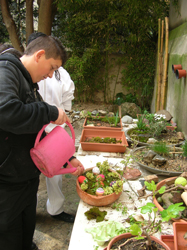 1) Garden and plants maintenance
A time spent, on a first place of the session. An opportunity for the youth participants
on observation, recognition and maintenance in the garden : weeding, raking, pruning.
2) Awareness to living environment and introduction to sensory perception
The exploration of the plant's world and its diversity : medicinal, nutritional and
ecological.
3) The Cut-garden : Miniature landscape compositions performed on a large cut.
Another expression of gardening and creativity. A creation at your finger tips for the well-being within and the satisfaction of becoming an actor for a personal work.
Recognition of natural features
Provision of materials that will be introduced into the compositions : plants, rocks, stones, ground, sand,
Creation of thematic compositions :
- Mountains landscape
- Water-garden
- Stones and dry garden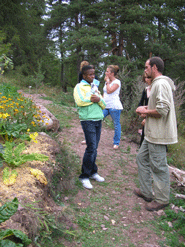 - Imaginary and recreational landscapes
- Introduction to Land-Art
4) Concepts of botany and horticulture :
A theoretical and practical introduction on :
. plants and their requirements
. observation of the rhythms in the garden : seedling, cuttings and planting
5) Floral arrangements inspired by Ikebana :
An opportunity for observation and creativity in the art of harmonizing flowers and
branches, harvested in the seasons.
A work to be performed on a minimal medium in the balance and simplicity of the
gesture.
"LES ATELIERS NATURE CULTURE" and VISUAL ARTS WORKSHOP
"Les Ateliers Nature Culture" are links with visual arts of the Home's teenagers (MDA). An opportunity for the participants to explore different mediums of expression and creation offered from natural elements : ground, plants, wood, stones and sculpting clay.
"LES ATELIERS NATURE CULTURE" are organizing tours and mountain hikes all year around.
Viv'harmonie

Actualités de Viv'Harmonie
Martine BRULÉ.
Cavillon - Domaine de Beauvallon
83310 Grimaud

Tél. : 04 94 56 39 92
Port. : 06 63 82 19 49
brule.martine@vivharmonie.com